Weighbridges for Sale | Truck Scales at the Best Price
Reliable Industrial Group is the leading manufacturer & supplier of weighbridges in the Middle East. Factory-manufactured truck scales/ weighbridges for sale with digital as well as analog load cells. With a team of expert service technicians in the GCC. The installation of our weighbridges & truck scales is always standard. Reliable also provides calibration and maintenance services free of charge along with weighbridge.
---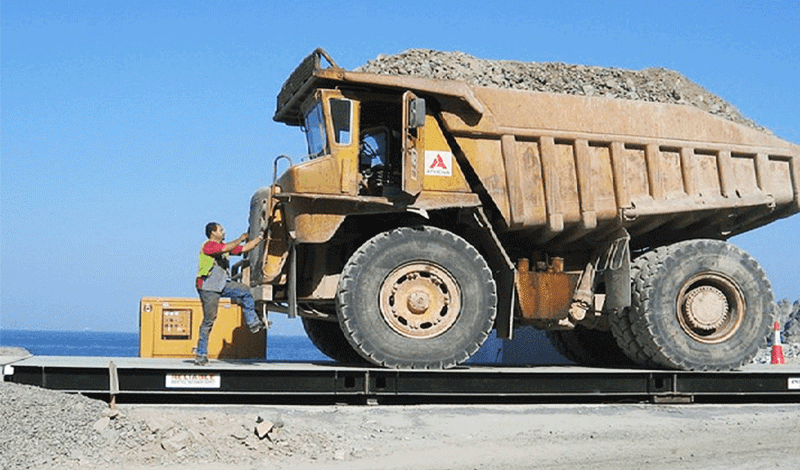 ---
Weighbridge Description
A weighbridge is a critical component in many industries where precise weight measurement is paramount. Additionally, this robust, heavy-duty weighing scale is designed to handle massive loads of commercial vehicles and precisely determine their weight. Weighbridges are commonly used in mining, construction, logistics, and agriculture. Where correspondingly accurate and reliable weight measurement is essential for operations. Identically, with its sophisticated sensors and advanced software systems. A weighbridge can accurately measure the weight of vehicles, indeed in the harshest conditions. In a world where precision and accuracy are crucial for ensuring operational efficiency and maintaining quality. Similarly, The weighbridge has become an indispensable tool for many businesses.
---
Different Types of Weighbridge for Sale
Are you in the market for a weighbridge, but unsure of which type to purchase? Look no further. Our company offers a variety of weighbridge options to suit any weighing needs you may have. From pit-mounted to portable, axle weighbridges to full-length weighbridges, we have it all. Our state-of-the-art technology ensures accurate and reliable measurements, guaranteeing that your transactions will be seamless and precise. Nevertheless with our exceptional customer service team. We are always here to answer any questions and guide you through the buying process. Don't settle for a subpar weighing system. Invest in one of our quality weighbridges today.
---
Reliable Industrial Group manufactures all types of weighbridges for sale which include: Pit Less (Surface Mount) Weighbridges, Pit Type Weighbridges & Portable Weighbridges.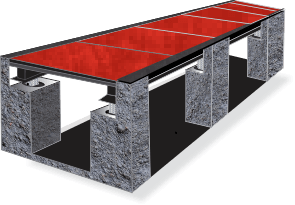 Pit Type Weighbridge
One of the most reliable and accurate methods of weighing large loads is through the use of full pit-in-ground truck scales. These types of scales are designed to be installed into a pit in the ground, ensuring a flush surface between the weighing platform and the surrounding area. While this eliminates the need for a ramp or incline, allowing a seamless weighing process and easier loading and unloading. Full pit in-ground truck scales also feature heavy-duty load cells and durable construction materials for maximum durability and longevity. With precise weight measurements and a sturdy build, full pit-in-ground truck scales are an essential investment for industries that require large-scale weighing solutions.
---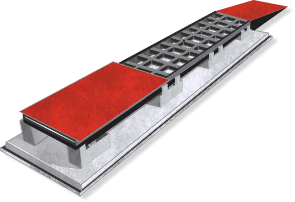 Pit Less \ Surface Mount Weighbridge
A surface-mount weighbridge is a crucial investment for businesses that rely on accurate weight measurements. Built at ground level, this type of weighbridge is designed to provide solid foundations for large and heavy vehicles, preventing the need for ramps and reducing the risk of damage to the vehicles. With a professional installation and maintenance service, businesses can benefit from a reliable and long-lasting weighbridge that can handle the demands of their operations. Whether it's for managing stock levels or ensuring compliance with legal requirements, a surface mount weighbridge can help streamline operations and improve efficiency.
---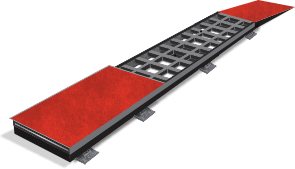 Portable \ Mobile Weighbridge
Surface-Above ground truck scales are a vital tool for industries that require accurate weight measurements in their operations. With their durable construction and high accuracy, these scales have become indispensable in a number of industries such as agriculture, mining, recycling, and transportation. In addition, mobile weighbridges have become increasingly popular due to their convenience and portability. They allow for quick and easy relocation, making them an ideal solution for companies that require weight measurements at different locations. Whether you need to weigh heavy-duty trucks, mining vehicles or any other type of large equipment, above-ground truck scales are the perfect choice to ensure accurate and reliable weight measurements.
---
Weighbridge for Sale: Capacities
When it comes to industrial and commercial weighing needs, reliability is key. That's why choosing a standard weighbridge with dependable capacities is crucial to ensure accurate measurements. With maximum capacities ranging from 20 to 120 tons, this reliable weighbridge system covers almost all requirements. Whether you need to weigh heavy machinery or large quantities of raw materials, this weighbridge has got you covered. Trust in the precision and dependability of this standard weighbridge with various capacities to meet your specific industry needs.
Capacity : 20 Ton | 40 Ton | 60 Ton | 80 Ton | 100 Ton | 120 Ton
---
Weighbridge for Sale: Dimensions
At our company, we understand that every business has unique needs when it comes to weighing and measuring loads. That's why we offer not only standard-size weighbridges but also fully customized weighbridges designed specifically for each customer's individual requirements. This versatility in our products and services allows us to stand out in today's highly competitive market. We know the importance of accuracy and precision when it comes to weighing. And we strive to provide the best possible solutions for our clients, no matter the dimensions or specifications of their loads.
Standard Sizes : 6 meter x 3 meter | 12 meter x 3 meter | 18 meter x 3 meter | 24 meter x 3 meter | Customized Size Weighbridge for Sale
---
Weighbridge Manufacturers and Suppliers in Dubai
When it comes to weighbridge systems for trucks, reliability, and accuracy are of utmost importance. That's why the Reliable Industrial Group stands out as a top choice for manufacturers and suppliers in Dubai and beyond. With their expertise and experience, they cover a wide range of locations in the Middle East and Africa. Providing top-notch supplies and services for truck weighbridges. Whether you're in Dubai, Sharjah, Abu Dhabi, or even as far as Uganda and Ethiopia. Reliable Industrial Group can ensure that your truck weighing scales are up to par and performing their best. Trust in their professionalism and commitment to quality.
---
Distributor and manufacturer of Weighing Equipment
Reliable Industrial Group is a trusted supplier of weighing scales and equipment in UAE, Oman, Saudi Arabia, and throughout the Middle East. Our dedication to providing high-quality products backed by exceptional after-sales maintenance services sets us apart from the competition. With comprehensive accreditation from the Dubai Municipality, customers can trust in the accuracy and reliability of our calibration services. Plus, our commitment to customer convenience extends to free-of-cost delivery of weighing equipment throughout the UAE. Whatever your industrial weighing needs, Reliable Industrial Group covers a complete range of equipment. Including heavy-duty weighing scales and industrial weighbridges. Trust us to provide the solutions you need to keep your operations moving forward.
---
Pitless Weighbridge | Pit Type Weighbridge | Concrete Weighbridge | Steel Deck Weighbridge | Portable Weighbridge | Weighing Indicator | Loadcell | Weighing Balance | Axle Weighing Scales | Customized Weighbridges for Sale | Truck Weighbridges | Weighbridge UAE