Electrical Components Coding and Marking
Industrial inkjet printing has revolutionized the way we label and code electrical components. Moreover, inkjet printers are popular due to their ability to create high-resolution and durable codes. Likewise, inkjet printing has become famous for marking various electrical and electronic products. In particular, inkjet printing on connectors and other electronic components has proven efficient and reliable. Also, It keeps the sensitive information on these items durable. Many prefer thermal inkjet for printing electronic components and essential information such as dates, lot numbers, and barcodes. Labeling electronic parts, electrical installation material, and cables is a crucial aspect of the electrical industry. And inkjet coding quickly becomes the preferred method to fulfill the task.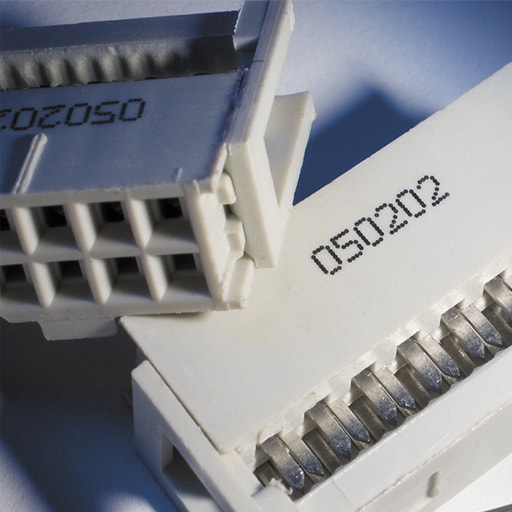 ---
Thermal Inkjet Printer for Marking on Electronics
Linx Continuous Inkjet printers revolutionize the world of inkjet coding on electronic components. Thanks to our cutting-edge technology, we can provide options for water-soluble and pigmented inks for temporary and permanent marking. We understand that delicate and tiny circuit boards and electrical component coding require exact and accurate coding. Hence our CIJ can mark a high-quality print as small as 1.4mm with high resolution. Additionally, our laser coder can even keep as little as 0.8mm. Our readable customizable codes offer options to create logos or designs while importing, allowing us to increase our application range. Sharp, high-resolution messages are printed error-free at high speeds, making our coders a primary choice. Best Buy solution for those who demand precision and quality in the field of inkjet coding.
Variety of Printing Solutions for Electronic and Electrical Components
In the fast-paced world of the electronic and wire industries, the need for precise and reliable coding on circuit boards and electronic components is crucial. From batch coding to date and case coding printers, manufacturers require dependable solutions to meet production demands. Inkjet coding on electronic components is popular due to its ability to print on various materials such as metal and plastic.
Continuous Inkjet Printer (CIJ), Laser Coder, and Thermal Transfer Over-printer (TTO) are some of the options available for fast and accurate coding. For those looking for a partner in this field, partnering with a Linx Authorized distributor in UAE can offer access to quality coding solutions and reliable maintenance contracts for peace of mind. With the ability to print QR codes and barcodes, engrave and etch circuit boards, and mark electronics with laser printing, manufacturers can ensure their products are coded to industry standards and meet customer expectations.
Related Products
---