inkjet coding on plastic
When considering inkjet coding on Plastic and PET bottles, there are several printing aspects to keep in mind. Firstly, the type of ink used is crucial, as it needs to adhere well to plastic surfaces. Also, the printed information should withstand harsh environmental factors. Linx solvent-based inks specialize in printing date codes explicitly on the product. Additionally, the prints must be legible, durable, and resistant to wear throughout the product's shelf life. Manufacturers also prefer laser marking on plastic bottles where there is mass production.
When selecting printer for inkjet coding on plastic, Ensure that it's fast, efficient, and integrates with your existing production line. Also, consider features like automatic print head cleaning, low ink level alerts, and easy-to-use software. Finally, it's essential that the system complies with all relevant regulations for your industry. Manufacturers can ensure product accuracy and compliance by selecting the right inkjet coding printer.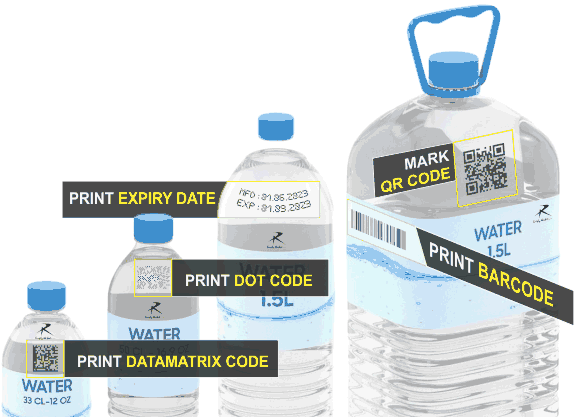 ---
Laser marking on plastic
Laser marking on plastic is becoming increasingly popular in the packaging industry. Particularly when it comes to printing expiration dates on products, these printers play a vital role. This innovative technology allows for accurate and efficient printing of expiry dates on plastic materials. In addition, it can print on plastic materials such as PET and PP without smudging or fading. With an automated laser date coding machine, companies can explicitly mark their products with expiration dates. This high-speed fiber laser marking online printing machine offers batch coding on plastic bottles. This makes it an efficient as well as cost-effective solution for businesses of all sizes. Laser marking eliminates the cost of ink compared to inkjet coding on plastic.

---
Printing on PET bottles
Printing on PET bottles is a crucial aspect of product labeling and identification in the industrial sector. It not only provides an expiry date and LOT codes but also ensures the safety and quality of the product. Expiry date printing on PET bottles keeps the consumers informed about the product's shelf life, enabling them to make informed decisions. Coding and marking on PET bottles serve as unique identifiers that help in inventory management, traceability, and distribution. The emerging trend of direct printing on plastic bottles instead of using paper labels is an eco-friendlier option, reducing waste and packaging costs. Overall, date printing on PET bottles is an essential component of the industrial printing process that is critical to ensuring the safety and quality of the products that reach consumers. Overall, the Linx printer fits all inkjet coding on plastic requirements.
Date Marking on Plastic Materials
The world of plastic product identification has come a long way with the use of specialized inks that can adhere to a wide variety of plastics, including PVC, PP, PE, and PET. Pigmented inks offer high-contrast printing capabilities and can withstand harsh outdoor conditions without fading or losing clarity. Inkjet coding on plastic is made more accessible by the use of both continuous inkjet coders and laser coders. With these advancements, product identification can be done with precision and efficiency, ensuring quality control every step of the way. PET is trendy for packaging applications due to its durability, and inkjet coding on PET is an excellent way to ensure traceability and authentication.
Related Products – For Inkjet Coding and Laser Marking on Plastic
---