Inkjet Coding on Box and Carton
The carton inkjet coder is quickly becoming equally important for various food and beverage manufacturers worldwide. This technology identically provides a cost-effective and reliable alternative to traditional label applicators. High-quality codes and images onto corrugated paperboard and cardboard boxes, similarly using continuous inkjet and thermal inkjet printers. Furthermore, this technology allows for batch coding on packs and cartons, making it an efficient solution for secondary packaging. Indeed with the ability to code high-resolution barcodes, logos, and text, the carton inkjet coder quickly becomes a crucial tool in the packaging industry.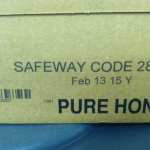 Box Coder Printer with Fast Drying Ink
Also, ensuring that the quality of codes is high and reliable in any production line is crucial. This is why implementing advanced printing technology, such as box coders, is essential. Despite the many available options in the market, Linx coders have stood out for their ability to print on various materials like paper, cardboard, and even tough cards at high speeds. By investing in this technology, manufacturers can easily print on both primary and secondary packages, reduce downtimes, and optimize production uptime without experiencing huge costs. Linx box coders provide high-quality printouts so that you can rest assured of that they meet your business needs.
Carton Coder Printer for Food and Dairy Industry
At our company, we chiefly understand the importance of accurate and efficient carton coding. That's why we offer a range of inkjet, laser coders, and specialized large-character printers to meet your specific needs especially. Moreover, Our large-character printers are expertly designed to print on porous substances like wood and cardboard, making them the perfect solution for your carton coding requirements. Indeed it provides high-definition printing that replaces pre-printed packaging. Linx large character printers provide you with a cost-effective alternative to expensive custom boxes as well as labels. Trust us to help you streamline your carton coding process as well as keep your production line running smoothly.
Secondary Level Inkjet coding on Carton and Boxes
A carton coder is essential when it comes to printing small codes, lot codes, manufacturing & expiry dates, and best before/ use-by dates for graphics, barcodes, and QR codes. Additionally, with an easy-to-use interface, it allows editing and altering messages as per your production requirements. In general, this enhances efficiency in the production process and ensures that the final products meet all labeling regulations. Indeed with a carton coder, manufacturers can easily print all the necessary information on their products. Also, it guarantees that customers receive safe and high-quality products.
---
Related Products