Laser Marking Printers for Tobacco Industry
As the tobacco industry continues to evolve and innovate, so does the way in which they mark their products. One such technology making waves in the industry is the CO2 and Fiber laser marking machine. Moreover, by utilizing laser etching technology tobacco companies can quickly and accurately code their products. In addition, it provides very high-speed marking on tobacco boxes and cigarette packages. With high-speed marking capabilities, the Linx Laser coders CSL and SL series are particularly popular options in the industry. Also, these laser coders for the tobacco industry provide a sleek and clean look for products with details explicitly printed. Eventually, these laser marking machines have become essential for track and trace systems to ensure compliance with industry regulations. The use of laser coders for tobacco products plays an essential role in advancing the way companies do business.
---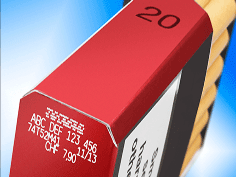 Laser Coders for Tobacco and Cigarette Boxes
The tobacco industry demands complex, anti-counterfeiting measures and microscopic character messages. Luckily, Linx's continuous inkjet printers and laser coders provide an efficient solution, achieving the highest speeds and protecting against product duplication and counterfeiting. Our solution allows for easy coding of logos, graphics, production dates, batch identification details, and more. This flexibility extends to the application of codes, which allows printing in any orientation, on any substrate, and at high speeds.
Our Laser coders can integrate into any production line with minimal downtime. The machines are operator-friendly and intuitive, making them hassle-free to use. With a customizable range of machine options available, Linx caters to all coding needs of the tobacco industry.
Related Products
Complete Coding and Marking Solutions for the Tobacco Industry
The tobacco industry requires printers to print batch details, expiry dates, manufacture dates, and other information on their products. That's where laser marking machines come in handy. These machines use fast coding and laser marking technology to print on card material for the tobacco industry. Additionally, they offer options for QR codes, 2D codes, and barcodes as well. Industrial production lines also prefer Continuous Inkjet (CIJ), Thermal Transfer (TTO), and Large Character Printers. But laser technology has become all in all solution for high-speed production lines. Overall, the tobacco industry needs top-notch, accurate, and fast coding to keep up with the demand.
FAQ's
---
What is a laser marking machine?
A laser marking machine is a type of industrial machinery designed to create, mark, and engrave date or batch codes onto objects. Compared to manual methods such as paper stickers or inkjet applications, laser etching is much faster while also providing improved legibility even after multiple wears or abrasions due to its elevated contrast over other traditional methods.
How does a laser marking machine work?
It uses a focused beam of energy from a laser source to provide precise and accurate markings. The beam can penetrate surfaces without damaging the material or surface itself while still producing readable results. In general, there are two types of laser marking printers CO2 and fiber laser machines. CO2 laser and fiber laser marking printers differ in the type of materials each can process, depending on their wavelength. Typically, fiber lasers operate at a nominal wavelength, while CO2 laser operates at a higher wavelength range. It's worth noting that fiber lasers have multiple advantages over CO2 lasers.
What are the benefits of using a laser marking machine for the tobacco industry?
Laser marking machines are used in various industries such as tobacco, electronics manufacturing, beverage, food packaging, pharmaceuticals, and more.
In particular, laser marking machines can quickly print expiration dates and QR codes on tobacco boxes. These laser coders mark very explicitly for product traceability as well as verification purpose. This helps tobacco companies meet safety standards set forth by government bodies. Moreover, protects consumers from potential hazards associated with smoking out-of-date products.
Get the best Laser Marking Machine that fits your application
How much does a laser marking machine cost?
The cost of a laser marking machine depends on your application, number of products, and line speed. Generally speaking, the price range for these machines falls quite expensive compared to the inkjet coders.
Additionally, no consumables are required when using this method which helps decrease overall costs in the long term.
What factors do you need to consider while buying a laser marking machine?
Laser marking printers for marking text or QR codes on tobacco and cigarette boxes have become the typical choice. While investing in a laser marking machine, it is important to consider factors such as optics and power requirements. The usage of lasers like CO2 lasers and Fiber lasers depends on the application or desired results. Some machines may also integrate vision components that detect irregularities in products before they are processed to ensure accuracy.