WEIGHBRIDGE SOFTWARE for weighing and managing heavy vehicles
Reliable offers weighbridge software for data monitoring and storage.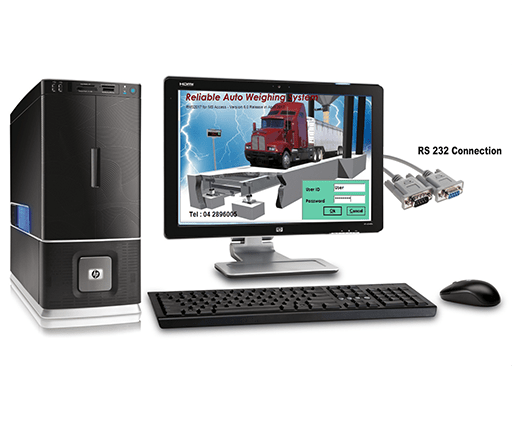 Tare Weight & Net Weight – Automatic Calculation
Customer Database
Material Database – with price per Ton\Kg
Source – Destination Database
Multiple Weighbridge Integration
IP Camera Integration – Security (Weighbridge software with ANPR camera)
VAT (Value Added Tax) Integration
Reports Analysis – | Material | Customer | Transaction | Location | In-Out Status | Total Amount | Total VAT
SQL Database | MS Access Database – Compatible with local network communication.
---
Product Description: Particularly weighbridge software is designed to ease the weighing process for truck scales. Moreover, it allows for quick and accurate weighing of vehicles while also providing reports and data analysis. Specifically, Our software is user-friendly. Furthermore, it can also be customized to fit the specific needs of your business.
Features:
User-friendly interface
Customizable settings
Detailed reporting and data analysis
Integration with other software systems
Remote access and control
---
Weighbridge Software Advantages
Increased efficiency and accuracy in weighing vehicles
Equally important weighbridge software data management and analysis
Moreover, customizable settings to fit the specific needs of your business
Markedly integration with other software systems for seamless operation
Altogether, remote access and control for added convenience and flexibility.
Surely, easy management of weighbridge data
In Detail, Real-time reporting and analytics
In addition, it improves the accuracy of weight readings and transaction details
Also, gain insights into your business operations with real-time reporting and analytics.
As a matter of fact, it saves time and money with automated processes
Identically reduce errors and increase efficiency
---
Brief Description
In brief, weighbridge software is an essential tool for businesses that rely on accurate measurement and management of materials. Weighbridge software is designed to automate the process of weighing goods and is used by various industries such as manufacturing, logistics, mining, and agriculture. Also, it uses electronic weighbridges, which accurately record the weight of goods being transported. The software then provides valuable data such as weight, time, and location, which can be used for billing, inventory management, and performance analysis. The software can also be integrated with other systems, such as accounting software, to provide a seamless workflow. Overall, weighbridge software is a highly efficient tool for managing weight-related tasks and improving business operations.
---
Benefits of Weighbridge Software
There are several benefits of using weighbridge software in businesses that rely heavily on measuring and managing materials. Equally important significant advantages are the increased accuracy over RS232 and Ethernet speed of data collection. Likewise, truck scale software automates the process of weighing goods, eliminates the need for manual recording, and reduces the chance of human error. Additionally, this results in more accurate and reliable data, which can be used for billing, inventory management, and performance analysis. The software also provides real-time data, enabling businesses to make quick and informed decisions. Also help businesses comply with regulations related to weight measurement, reducing the risk of penalties or legal issues.
---
How does weighbridge software integrate with other systems?
In the first place, this software can integrate with other systems through various methods. One of the most common methods is API integration, which allows the software to communicate with other systems, such as accounting, billing, or inventory management. Identically this enables seamless data transfer and automatic updates between systems. Another integration method is through data export/import, where the weighbridge software generates reports in a specific format that can then be imported into other systems. Nevertheless, this can be done manually or automatically, depending on the software's capabilities. Overall, Weighing software integration with other systems ensures a streamlined workflow, saves time, reduces administrative costs, and enhances operational efficiency.
---
Can truck scale software be customized?
In fact, weighbridge software can be customized to meet the specific requirements of a business. The level of customization available often varies between providers, but most will offer at least some degree of customization. Customization can range from minor tweaks, such as changing the color scheme or logo, to more significant changes, such as adding or removing features, altering the workflow, or even developing custom modules. Customization, by all means, ensures that the software meets the business's unique needs and enhances its efficiency, which can result in increased productivity, decreased costs, and improved customer satisfaction. However, it is essential to consider the cost and potential impact on maintenance and updates when requesting weighbridge software customization.
| | | | |
| --- | --- | --- | --- |
| Weighing Material | In & Out Status | Vehicle Driver | Source Location |
| Destination Location | Transporter | Customer | Reports & Summary |
| Camera Integration | Ticket Printer | Software Database | VAT Transactions |
Reliable Weighbridge Software