Pit Mount Weighbridge
Pit mount weighbridges are suitable for areas with limited space and where construction costs must be manageable. Their design allows vehicles to approach the weighbridge from any direction as the platform is level with the ground. Public weighbridges commonly use this type of design. One crucial aspect of an electronic weighbridge is its accuracy in measurements. The load cells and indicators are essential components as they determine the precision of the weighbridge. It is crucial to source high-quality and durable components to ensure that the weighbridge remains accurate and reliable over time. Also, investing in robust components significantly increases the weighbridge accuracy.
---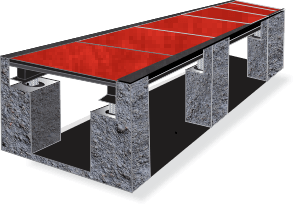 BENEFITS
Lesser Space Required (No ramps required)
As the platform matches the ground level, Hence Semi Trailer & Tractor Trolleys can also be weighed.
No Ramp require for truck movement because it is installed on a land surface level.
---
In the first place, weighing heavy loads accurately is crucial for businesses that rely on transportation. And the use of pit mount weighbridges ensures that the weight of trucks and other vehicles is measured correctly, and this is made more accessible by the fact that trucks can be easily driven directly onto the platform. The highly durable steel platforms used in weighbridges are designed to withstand high loads and ensure that the entire load and vibrations of the moving vehicle are subjected to the platform. Careful selection of girders and plates, coupled with stringent quality checks, ensures that the weighbridge functions as expected, providing accurate measurements to help businesses manage their operations more effectively.
---
Reliable Mounting Assembly for Load Cells
The load cell mounting assembly is a highly efficient and precise instrument composed of three central units: the bottom plate, the rocker assembly, and the top bracket. Moreover, cradle assembly handles the loads generated by vehicular movements, making it perfect for weighing heavy vehicles on platforms. This assembly's capability to move in the horizontal axes ensures the health of the signals from the pit mount weighbridge platform to the load cells. This innovation is ideal for businesses that require reliable and accurate results, making it a must-have for industrial applications.
---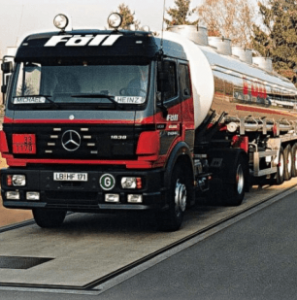 ---
Low Resistance Cables And Weather-Proof Junction Box
A 4-core shielded cable with low electrical resistance ensures accuracy and reliability.
A weatherproof junction box with terminal blocks offers protection against lightning and electrical surges.
Surge arrestors installed in the junction box ensure reliable data acquisition without interruption.
A professional and diligent approach ensures accurate and consistent results from Pit Mount Weighbridge.
---
Pit Mount Weighrbdige Capacities
Regarding heavy lifting, capacity is a crucial factor to consider. Our equipment offers a range of capacities, from 20 to 120 tons, allowing you to select the perfect option for your needs. In addition to our reliable and robust machines, you can quickly meet your product requirements. Trustworthy equipment for professionals across various industries, from construction sites to shipping yards. Contact us today to learn more about our service and solutions.
Capacity : 20 Ton | 40 Ton | 60 Ton | 80 Ton | 100 Ton | 120 Ton
---
Pit Mount Weighbridge Dimensions
Similarly, standard sizes can be a convenient starting point for finding the right size for your project or event. At 6 meters by 3 meters, the smallest option provides ample space for a small gathering or exhibit. If you need more room, the 12-meter option is popular, while the 18- and 24-meter options can accommodate even larger crowds. Of course, if none of these options suit your needs, there is always the option for a customized size. As a matter of fact, No matter what size you need, providing a wide range of truck scales.
Standard Sizes : 6 meter x 3 meter | 12 meter x 3 meter | 18 meter x 3 meter | 24 meter x 3 meter | Customized Size
---
Pit Mount Weighbridge Brief
In the industrial and commercial sectors, reliability is critical. Our standard weighbridge capacities identically meet almost all the requirements. But we don't stop there. Every business has unique needs, so we also offer customized pit mount weighbridges tailored to your requirements. Our products and services have proven versatile while making them stand out in a competitive market. Regarding weighing technology, trust us to provide the most reliable solutions.