Automatic Scanning Station 1
Automatic Scanning Machine
The Automatic Scanning Machine is specially designed for Online scanning of 1D/2D code present on the side of the box and in line with the Existing Conveyor System.
Designed to facilitate overall more productive operation with simple maintenance.
Features
Plug & Play System
User-friendly Operation Panel
High-speed 1D/2D code Scanning Algorithm
A vibration-free belt conveyor with a rejection bin. Polycarbonate enclosure.
Traffic management maintains a gap between consecutive boxes, which reduces rejection and rework.
Mirrorless multiple-resolution smart cameras with customized optics
Robust 1D/2D code reading algorithm, which ensures minimum false rejection.
State-of-the-art reflection-free illumination for more accurate shrink pack 1D/2D code decoding.
Innovative design to accommodate the print and apply equipment within the machine.
High-resolution camera to scan and verify the 2D Code on the box label.
Integrated software can communicate with multiple cameras in the system.
If the 1D/2D code is not scanned, the system does not apply the label on the Box. This avoids label wastage.
Label roll changeover without stoppage of the production line.
Various interlocks like rejection verification, rejection bin full, low air pressure, door open, etc.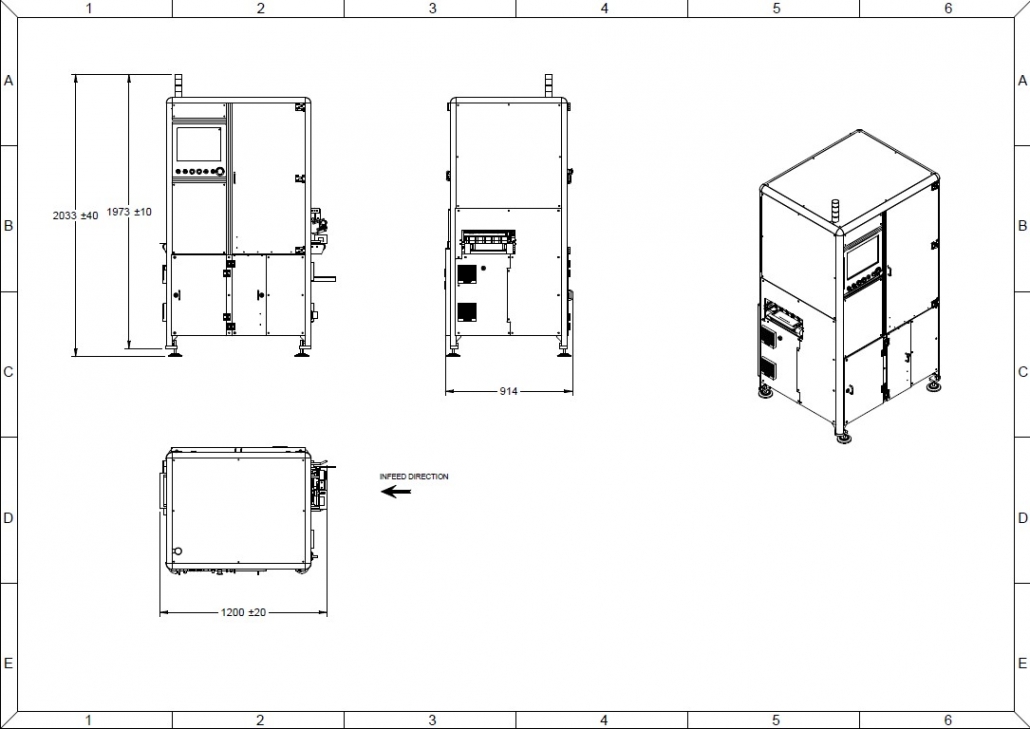 Parameter
description
Automatic Scanning Machine
• Camera - High resolution camera for box code scanning
•   Lens – Suitable high-resolution lens with minimum distortion is provided based on camera model.
•   Illumination - White LED, reflection free homogeneous illumination for reflective surface (inside plastic scanning)
•   Audible & Visual alarm
•   Sensors (as applicable) – Object, Target, Label detection, rejection verification sensor and rejection bin full sensor
•   Ejector -Pneumatic pusher with rejection bin
•   Conveyor with Traffic management to maintain gap and avoid jamming.
• Print and apply labelling unit camera to inspect label 1D/2D /QR Code
PC
•   Processor Group - Intel Chipset High speed controller, above 2.2 GHz
•   Operating System – Windows 10 Pro
•   Memory Capacity - 4 GB
•   Storage Capacity - 120 GB SSD
•   Display Size – 15" or 17"
• Operator interface – LED/LCD and touch screen
Embedded I/O controller with embedded software
•  I/O Controller – Processing & Controlling hardware signal and communicating with software, this controller integrates with sensor, electrical/electronic parts.
•  Camera communication
•  I/O Communication
•  Solid State Relay card
• Required cables
Material of Construction
•   Section frame, Structure, Plates – Aluminium
• Covers – SS304
External communications
• RS232, Ethernet, USB
Operating temperature
• 5°-40°C
Power supply
• 230 Volt AC, single phase with MCB for protection
Products listed: Automatic Scanning Station 1 | Multi Scanning Station 2 | Manual Scanning Station 3 | Product Diverting Station | Control System