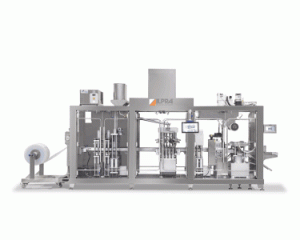 The principles behind ILPRA's MD models of the Thermoforming Filling line are as follows:
Technological concept based on the utilization of servo-assisted electrical movements.
Utilization of standardized components from top manufacturers in the market.
Advanced software allows effortless and efficient management of all machine functions, enabling seamless integration with customers' computer systems (CPS 4.0 cyber-physical system).
Intuitive and comprehensive HMI user interface.
Simple, intuitive, and effective solutions to accelerate and streamline various packaging operational phases.
Compact dimensions.
ILPRA Thermoforming and Filling Machine
---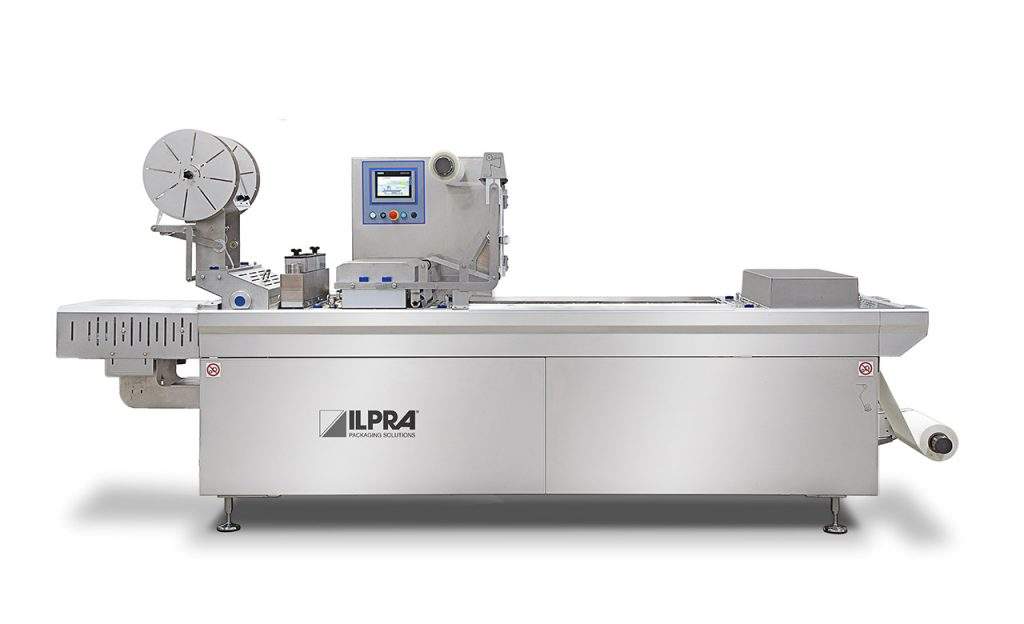 Form Fill Seal MD
Thermoforming and Filling machine that ensures maximum production efficiency, precise and hygienic dosing, and reduced operating costs through optimized maintenance procedures and silent operation. The ergonomic and functional design is carefully crafted to facilitate usage, maintenance, and sanitization operations while offering high customization options through various optional extras.
| Technical Data | Thermoforming Filling machine |
| --- | --- |
| Production capacity | 25 cycles/min max |
| Forming film | 460 mm. max |
| Max. Step | 260 mm |
| Max height package | 100 mm |
Thermoforming Filling Machine for Sale in UAE Form Fill Seal MD | Contact us today.
---
---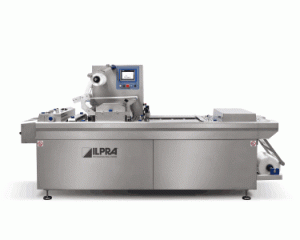 Thermoforming machines offer a reliable solution for various needs. They provide simple solutions in mold changes and efficient use of workspace. Each model has different accessories and machine structures based on specific applications. With EMEC technology utilizing servo-driven movements, these machines offer superior performance and significant energy savings. Different versions provide packaging technologies such as vacuum, skin, MAP, and various packaging materials, including rigid or special films. Our machines provide strength in safety, hygiene, and the use of readily available components.
Form Pack Thermoforming Machine
---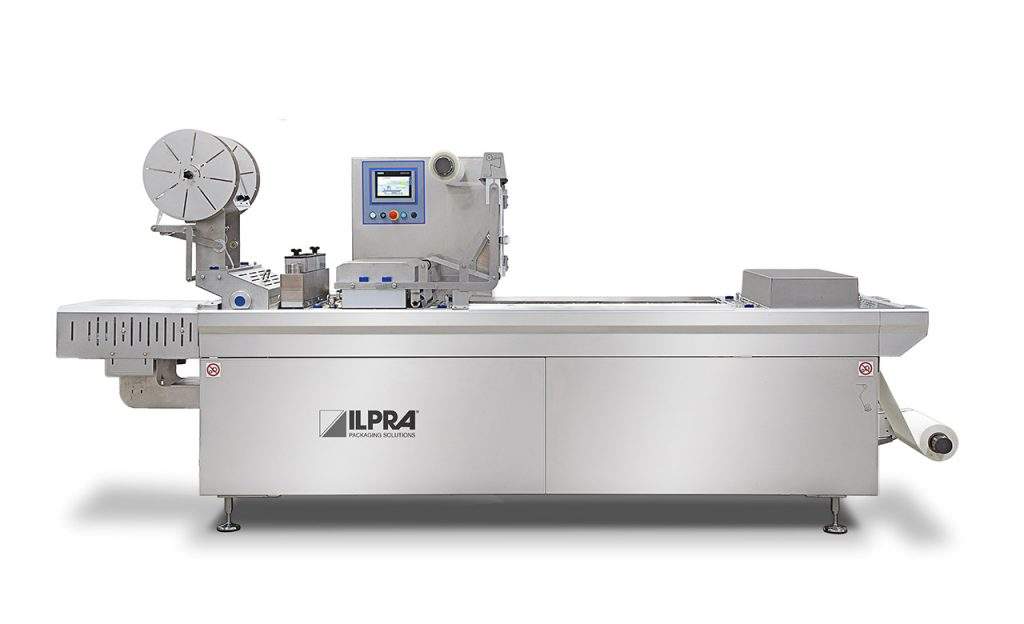 Thermoforming Machine | Formpack Easyform
This thermoforming machine boasts improved design and components, including newly designed combined forming and sealing molds. With an expanded working area compared to the previous version, it delivers higher performance and enables medium to high production capacities. This machine serves as an outstanding packaging solution for food and medical applications.
| Technical Data | FormPack Speedyform |
| --- | --- |
| Frame length | 3770 mm |
| Step | 300 mm (max) |
| Forming film width | 420 mm (max) |
| Maximum height of containers | 120 mm (max) |
---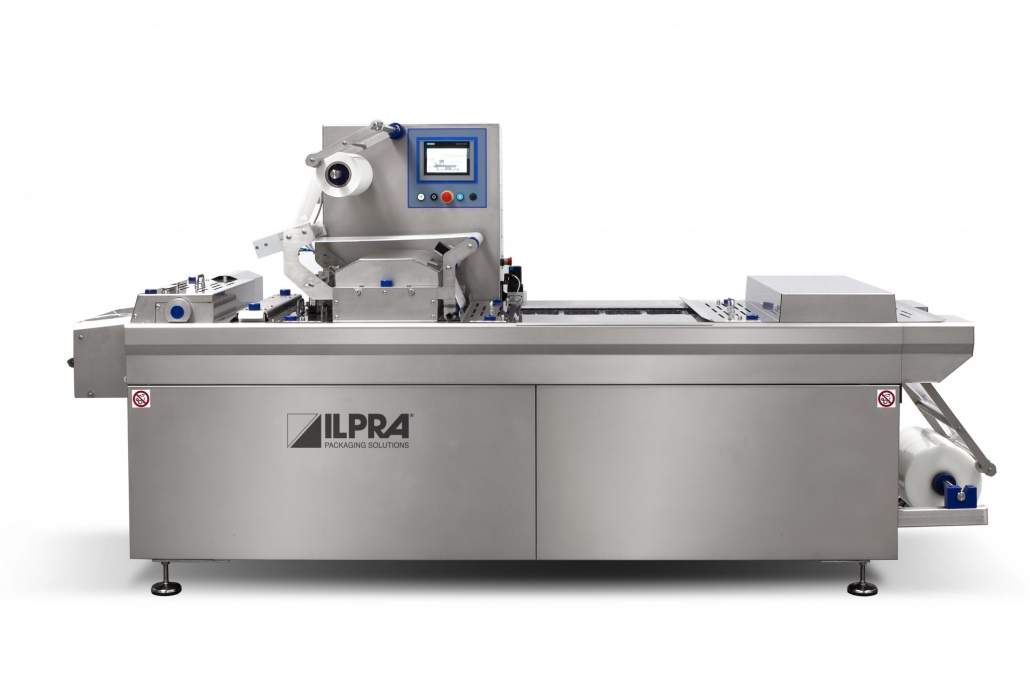 FormPack Speedy Form
The Speedyform model provides a compact, saving space solution with easy of access for format changes, cleaning, and maintenance operations.
| Technical Data | FormPack Speedyform |
| --- | --- |
| Dimensions | 3200 mm |
| Weight | 300 mm (max) |
| Air Consumption | 420 mm (max) |
| Sealing Area | 100 mm (max) |
---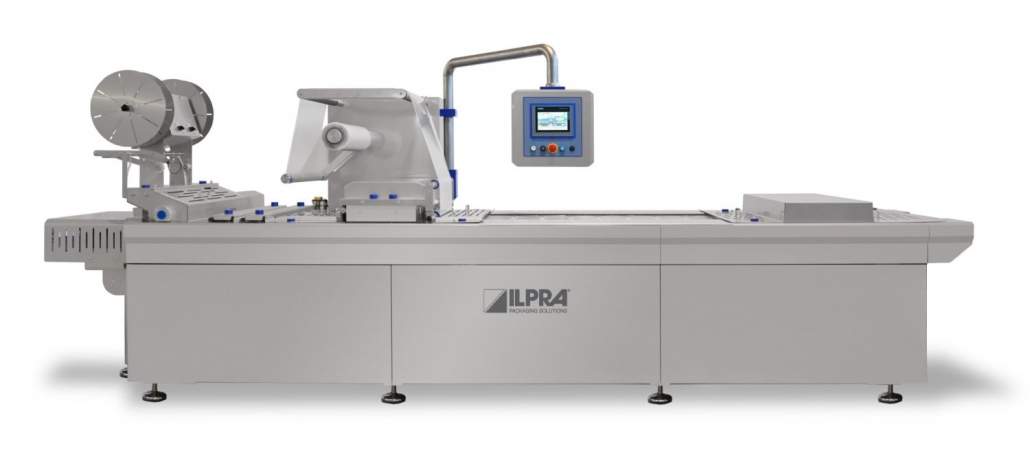 Thermoforming Machine | FormPack F0/F660
Formpack F0 and its variant F660 offer more customizable solutions while adhering to a shared construction philosophy. These solutions boast a compact design, exceptional flexibility, superior production performance, standardized formats, and user-friendly operation. Most importantly, they guarantee absolute and enduring reliability.
Depending on the application, desired performance, and required accessories, ILPRA assists customers in selecting the optimal machine model and customization options for their specific needs.
| Technical Data | FormPack F0 | FormPack F660 |
| --- | --- | --- |
| Frame length | from 3500 to 4800 mm (max) | from 3500 to 4500 mm (max) |
| Step | 320 mm (max) | 400 mm (max) |
| Forming film width | 460 mm (max) | |
| Maximum height of containers | 120 mm (max) | |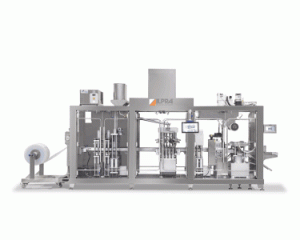 The principles behind ILPRA's MD models of the Thermoforming Filling line are as follows: Technological concept based on the utilization of servo-assisted electrical movements.Utilization of standardized components from top manufact
Read More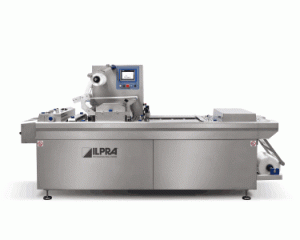 Thermoforming machines offer a reliable solution for various needs. They provide simple solutions in mold changes and efficient use of workspace. Each model has different accessories and machine structures based on specific applications. W
Read More
Products listed: Forming Collar | Tray Sealing | Thermoforming | Pallet Wrapping | Horizontal Form Filling | Vertical Flow Wrapping | Shrink Wrapping | Protective Packaging | Filling & Capping | Print & Apply | Cable Conveying | Secondary Packaging