Inkjet Coding on Meat Packaging
Ofcourse ensuring hygiene standards in the meat processing industry has become essential. And with the growing concerns of food safety, having the proper inkjet coding on meat in place becomes essential. Inkjet coding technology has become a popular choice for printing in the meat processing industry. Moreover, these printer highlights their ability to quickly and accurately mark and code primary packaging. The meat industry has mass production, so batch coding on meat has become necessary. Linx printers for date coding on meat can handle harsh environments and rigorous standards. Overall, reliable coding and marking in the processing and packaging of meat products ensure traceability, quality control, and food safety.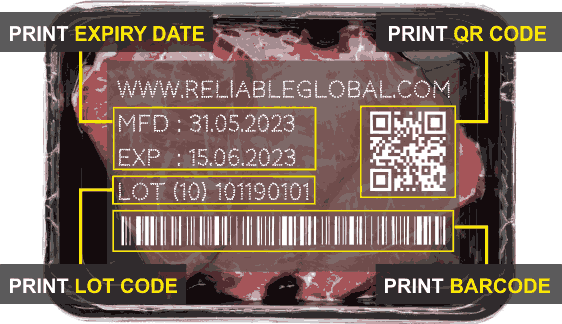 Batch Coding on Meat Packaging
In the meat industry, batch identification plays an essential role in ensuring the safety and quality of products. Manufacturers consider factors such as the speed and accuracy of batch printing solutions. Variable data printing allows meat processors to understand batch numbers easily. Furthermore, it helps to track meat batches and identify the nearest to the expiry batch first. Batch coding on meat products enables tracing of the end-of-the-line products and allows selling them out in a timely manner.
---
Inkjet Coder for Meat Processing
In the meat processing and frozen foods industry, inkjet date coding ensures that the end-user receives quality meat. It is essential that the codes are accurate, indelible, and applied promptly to enable seamless production processes. These codes are vital for maintaining freshness and storing products at optimal temperatures. Additionally, the regulations apply to diverse substrate types and production targets.
The food industry requires precise coding solutions for traceability and safety reasons. With Linx coders, meat manufacturers can explicitly print accurate and high-quality codes on a range of products. Inkjet coding is a reliable and efficient way of coding in high-moisture areas or packaging environments.
Linx printers can provide superior inkjet coding solutions for the meat packaging and processing industry. Moreover, it allows accurate coding on various substrates of different sizes. This results beneficial for the high-volume and fast-line production of a wide range of products. This ensures precise coding, improving the process's overall quality, and helps protect your brand. With highly reliable and efficient Linx coders, you can ensure maximum Overall Equipment Effectiveness for your operation.
Related Products
---
---
Date Coding on Meat Processing and Packaging
Inkjet date coding falls equally essential in the meat processing and packaging industry. Additionally, it ensures that product labeling consists of expiry dates and other batch codes explicitly. Here are some key considerations when selecting an inkjet date-coding printer for the meat industry:
Choosing the correct ink:
Inkjet coding on meat packaging requires specialized food-grade inks that adhere well to various packaging. In addition, it can print easily on materials such as plastic, film, or paper. The ink should be safe for food contact and resistant to environmental factors such as moisture and temperature.

Legibility and durability:
The inkjet coding should produce clear, legible prints that remain visible throughout the product's shelf life. The ink should also resist wear and smudging, ensuring the information remains accurate and legible.

Efficiency and speed:
Inkjet coding systems should be fast and efficient to keep up with high-volume production in the meat industry. This ensures accurate labeling without delaying the production process.

Integration with production line:
The inkjet coding system should integrate seamlessly with the existing production line, allowing for easy setup, operation, and maintenance.

Printer features:
Look for an inkjet coding printer with features such as automatic print head cleaning and low ink level alerts. Also, the most important is an easy-to-use software for designing and editing printed information.

Regulatory compliance:
The inkjet coding system should comply with the relevant regulatory requirements for the meat industry. Alos, it should ensure that the products are safe for consumption and meet the required standards.

Types of Coding Solutions for the Meat Industry
The meat industry makes use of various types of coding technologies, such as inkjet coding, for quick and efficient marking. This includes code dates, expiration dates, and manufacturing dates. Other popular coding methods include laser coding, QR codes, barcodes, and high-speed marking. Printing technologies include continuous inkjet printers, thermal transfer over printers, and large-character printers.