Mobile Weighbridge for Sale
Are you in need of a portable weighbridge that is easy to move and install in alternative positions? Look no further than our selection of Portable Weighbridge manufacturers & suppliers! With capacities ranging from 40 to 100 tons and lengths from 6 to 18 meters. We offer various options identically to fit your specific needs. Our relocatable deck constructed of steel ensures durability and longevity. On the other hand, our portable axle weighbridges can be easily moved with a forklift. Plus, our weighbridges calculate total weight from axle measurements, making your job easier and more efficient. Don't settle for less when it comes to your weighing needs. Choose our portable weighbridges for superior quality and convenience.
Our company takes pride in providing reliable standard weighbridge capacities that cover all industries. Our products and services are competitive due to our ability to supply standard as well as customized weighbridges. With our expertise and experience, we can provide you with the best solution to meet your capacity needs. We offer various portable weighbridge dimensions and capacities that can be customized to fit any application. Our team is dedicated to providing exceptional service and the highest quality products to ensure your utmost satisfaction.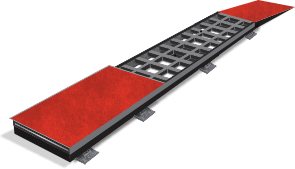 Specialized for Short Terms Projects
If you're in the Mining, Quarries, or Construction industry, you know the importance of accurate weighing. But what do you do when moving your weighing equipment from site to site? Enter the Mild Steel Mobile Weighbridge – designed specifically for those who require portable weighing solutions. Indeed the installation takes two hours; this weighbridge provides the accuracy you need without the wait. Plus, the portable steel rack base design means it's easy to transport from one job site to another. Looking for a short-term hire? Look no further than this portable weighbridge. The mild steel mobile weighbridge lets you do the job efficiently and accurately.
We provide an efficient, cost-effective weighing solution that can easily transport and re-install. Then look no further than portable weighbridges! With short assembly times, these mobile weighbridges are the perfect choice for businesses facing time or budget constraints. Plus, if you need even more flexibility, portable weighing pads and axle weighing scales are also available. So why wait? Invest in a portable weighbridge today and easily weigh your loads wherever and whenever necessary.
Portable Weighbridge with Customized Dimensions and Capacities
Searching for a mobile weighbridge that's both portable and convenient. Look no further than our collection of steel-fabricated weighbridges, equipped with ramps and designed to offer unparalleled ease of use. Structured with a sturdy checkered top plate on top of the load cell and bottom frame. These weighbridges provide accurate measurements with a wide range of options for businesses of all shapes and sizes. Whether you need a fully certified solution or a self-contained mobile option. Our team is here to help you find the perfect fit for your unique needs. Also, benefit the convenience and flexibility that comes with a top-quality weighbridge. So why wait? Reach out today to learn more and take the first step towards more accessible, more efficient weighing operations.
A modular design of a weighbridge comes with many benefits, especially for those needing temporary installations. This machine includes a platform, bottom frame, and ramps with no foundation. One of the crucial advantages of the portable weighbridge is that it saves construction costs and time. Installation is quick and takes only a few hours to move from one site to another. This anti-skid plate prevents accidents and enhances safety when weighing vehicles. Therefore, this weighbridge provides an efficient, cost-effective, and reliable method of weighing at temporary sites.
Importance of Portable Weighbridge
Portable weighbridges are essential for businesses that require an efficient and accurate way to weigh heavy loads. With a range of capacities of up to 120 tons, these weighbridges can handle a variety of weights and loads. Furthermore, with standard sizes of 6 meters by 3 meters, 12 meters by 3 meters, 18 meters by 3 meters, and 24 meters by 3 meters, these weighbridges can be customized to suit different needs. Whether you need to weigh trucks or other large vehicles, we have the complete solution. The dimensions and capacities of portable weighbridges make them required for any business looking for accurate and timely weight measurements.