Barcode and QR Code Printing Direclty onto the Products
Barcode and QR Code printing directly onto products have revolutionized the manufacturing industry. Companies can now efficiently print these codes onto their products with continuous and thermal inkjet printers. Which makes inventory control and product tracking much easier than ever before. In addition, the QR Code laser marking printer helps cater to most applications. It has made it possible for producers to print these codes onto metal and glass bottles directly. This has improved the accuracy and saved time and resources for the company. Moreover, as companies adopt these barcode printing, we can expect to see even greater product management and control production.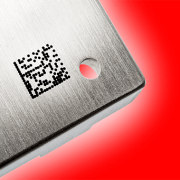 Barcode and QR Code Benefits
In the world of packaging, ensuring the accuracy and readability of barcodes is critical to maintaining efficient supply chain operations. With the advancement of laser marking printer technology, printing barcodes directly on glass and PET bottles has become a reality. It allows high-quality coding without needing adhesives or labels, which results in a cleaner and more professional appearance. And when it comes to tobacco and pharmaceutical items, QR codes are essential. QR codes have become a more and more popular method of tracking and verifying product authenticity. Manufacturers can quickly execute anti-counterfeiting measures with QR code printing ability on boxes. Also, they can provide valuable product information to consumers with a simple scan. Overall, barcode and QR code printing technologies provide the packaging industry with an increase in product safety.
QR Code Printer | 2D Code Printer | Data Matrix Code | Barcode Printer
The Linx inkjet and laser coding printer is undoubtedly a game-changer in the printing industry. With its unique ability to print all types of codes, including QR codes, 2D codes, data matrix codes, and barcode printers, it's a versatile solution for businesses looking for a reliable and efficient solution. As a professional, you can rest assured that you're investing in a powerful tool that can help streamline your processes and boost productivity, all while ensuring high-quality and crisp prints every time. The Linx coding printer is a must-have for businesses that require accurate coding and marking on their products, packaging, or labels.