Scale Repair Services
Authorized by the Emirates Authority for Standardization and Metrology (ESMA) for weighing scale repair as well as maintenance services. Indeed, this authorization indicates that we have met the standards and requirements set by ESMA. Indeed eligible to provide high-quality repair and maintenance services for weighing scales. Expertise technical team especially for the repair of weighbridge and truck scales. Also provides EIAC-approved ISO 17025-accredited weighing calibration services.
Weighing scales plays an essential role in many industries, likewise food manufacturing, pharmaceuticals, logistics, and more. These scales must be explicitly accurate to ensure compliance and product quality. Regular maintenance and repair of weighing scales falls equally important to keep them functioning at their optimal level.
We do repair and maintenance of weighing scales as well as calibration at the same time. This also guarantees that the calibration of the scales falls under compliance with ESMA regulations.
Overall, weighing scale repair and maintenance services is an essential recognition of a company's commitment to providing high-quality services and ensuring customer satisfaction.
ESMA Certificate No: 19-03-11061/E19-02-000409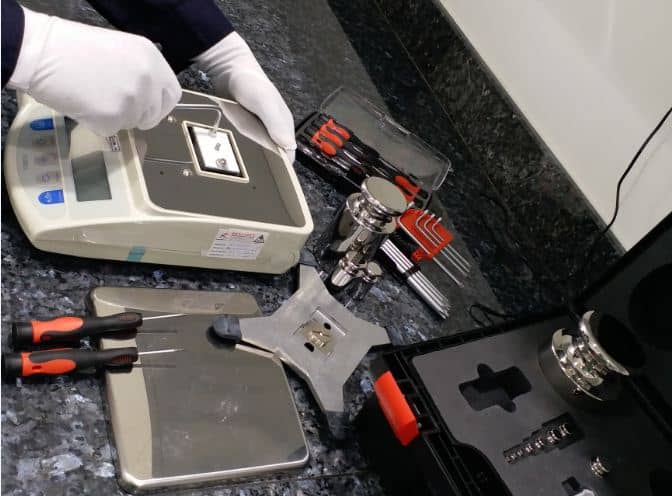 Scales Maintenance
Platform weighing scales play a critical role in ensuring accurate weight measurements of products and materials. Regular maintenance and repair of platform weighing scales are necessary to keep them functioning at their optimal level.
The platform weighing scale repair services typically being performed by experienced technicians. These technicians have expertise in identifying and fixing joints within scales. Common issues that may require repair include broken load cells, damaged cables or displays, or calibration issues.
During the repair process, a technician will thoroughly inspect the scale to identify any issues. They will then replace any damaged parts, re-calibrate the scale, and test it to ensure it is operating correctly. The technician will also check for any damage or wear and tear that may require further repairs or replacement parts.
Cost Effective Repair of Weighing Scales
We understand that efficient and cost-effective repairs are essential to keep your equipment running. Reliable strives to deliver this through our advanced repair techniques.
Our team of experienced technicians uses modern technology during repair and maintenance activities. This allows us to increase yields and decrease the costs of the weighing scale. By utilizing cutting-edge tools and techniques, we can quickly diagnose and repair issues with your equipment, reducing downtime and minimizing the cost of ownership for our customers.
We are committed to providing cost-effective solutions to extend the life of your components. Our reliable advanced repair services make more of your components serviceable, providing you with significant shop visit savings. We take pride in our ability to provide scale repair services with a cost-effective alternative to purchasing new equipment.
Our dedication to using modern technology and applying it effectively has enabled us to provide high-quality repair services to customers across the Middle East. We continue to innovate and adapt to new technologies to ensure that we deliver the lowest cost of ownership to our customers.
In summary, our mission is to achieve complete customer satisfaction by providing reliable, cost-effective, and high-quality repair services. We are committed to utilizing modern technology to increase yields and decrease costs, providing our customers with significant savings on their repair and maintenance needs.
Repair of Weighbridge and Weighing Scales
Truck scales to accurately measure and weigh goods while loading and unloading. However, these scales can become worn out or inaccurate without regular maintenance and calibration. Which leads to inconsistencies and inefficiencies in the weighing process. At our company, we specialize in the repair of weighbridge and truck scales, offering comprehensive maintenance, calibration, and replacement services to keep your scales functioning at their best. Our skilled technicians can easily identify and address common issues within the weighbridge. Solving issues such as worn-out load cells, faulty cables, and junction box problems. With our reliable and efficient services, you can trust that your weighbridge maintenance will be at its best.
Scale Repair Services
Repair of Weighbridges & Weighing Equipment
Annual Maintenance Contract
Preventive Maintenance Contract
Periodic Inspection Visits
Replacement of Faulty components
AMC Annual Maintenance Contract | PMC Preventive Maintenance Contract
Preventive maintenance visit: Quarterly / Monthly
Calibration of Weighing Equipment: Annually / Quarterly / Monthly
Replacement of spare parts: Special Price for AMC customers
Emergency Calls: Available
Inspection visit: Included
Certification: Emirates International Accreditation Centre (EIAC) Accredited – ISO 17025 calibration certificate.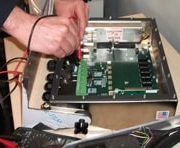 Industrial Scales repair services
The gateway to industrial resources is a reliable practice that involves repairing equipment with the original equipment manufacturer (OEM). This is one of the most cost-effective ways to maintain performance and reliability. Using proven and durable materials assure configuration integrity and support.
Weighing Calirbation
Accredited calibration of weighing scales and weighbridge with compliance master weights. We provide complete weighing calibration services for static as well as dynamic weighing equipment.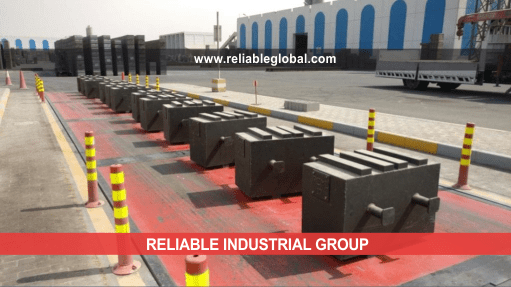 RELIABLE's advanced repairs enable your business to salvage components that would typically require replacement, leading to improved performance and durability of your equipment. By restoring these components to acceptable limits, you can extend their safe service life, positively impacting your business's financial bottom line.