Truck Scales Manufacturer And Supplier In UAE.
In reality, industrial weighing technology has come a long way in the modern era. Correspondingly manufacturers and suppliers constantly innovating to meet the demands of the market. Furthermore, Truck scales or Weighbridges have become necessary tools for dealing with heavy-duty transportation. As a result, the demand for reliable and accurate scales has risen, leading to fierce competition among truck scale manufacturers and suppliers in the UAE. Likewise, Reliable Global provides precision scales designed to endure the extreme conditions of industrial environments. With the booming logistics industry, it is important to invest in these scales at the same time. Above all, putting money into high-quality weighbridges to streamline transportation processes is crucial. Look no further than the upright manufacturers and suppliers of truck scales in the UAE to elevate your business to new heights.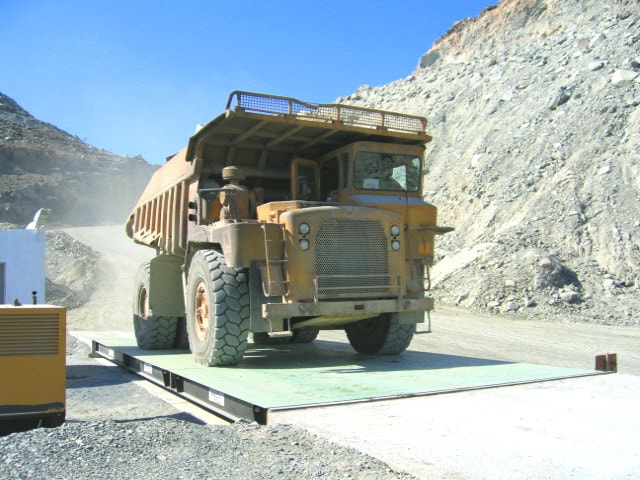 Different Types Of Truck Scales To Cater To The Market.
Investing in a reliable truck scale is still necessary for any business dealing with heavy freight transport. Also, there are different types of truck scales to cater to the specific needs of every business. In fact, the pitless truck scales are popular for those who want a more affordable and easier-to-install option. On the other hand, pit-type truck scales are more durable and long-lasting, making them ideal for businesses with high-volume truck traffic. On the positive side, portable weighbridges are perfect for businesses that require versatility and portability. Lastly, concrete weighbridges are the most long-lasting option, providing a solid foundation for heavy-duty operations. Certainly, with these different types of truck scales, businesses can choose the best option to maximize their efficiency and profits.
Factory-Made Truck Weighing Scales.
When it comes to heavy-duty steel structures, quality, and performance are key factors. A steel structure that is durable and long-lasting can help your business run smoothly and efficiently. But what about installation and maintenance? Significantly, many heavy-duty steel structures are designed with ease of installation and maintenance in mind. Additionally, checkered steel plates provide a reliable grip, and the integration of ramps can make a huge difference in accessibility. Overall, superior coatings on steel structures are usually a must for those seeking a benchmark in quality and performance. And for those seeking a specifically designed truck scale, customization is always available. In short, a heavy-duty steel structure is a wise investment for any business, providing longevity, dependability, and numerous benefits.
| PLATFORM SIZE | WEIGHBRIDGE CAPACITY | LOAD CELLS |
| --- | --- | --- |
| 6 meter x 3 meter | 20000 kg to 30000 kg | 20 Ton to 30 Ton | 4 Load Cells |
| 12 meter x 3 meter | 50000 kg to 60000 kg | 50 Ton to 60 Ton | 6 Load Cells |
| 18 meter x 3 meter | 80000 kg to 120000 kg | 80 Ton to 120 Ton | 8 Load Cells |
| 24 meter x 3 meter | Upto 250000 kg | 250 Ton | 10 Load Cells |
Load Cells And Mounting
In the first place, components play the most important role in the truck scales. Also, the quantity and capacity of load cells can vary greatly depending on the dimensions and required accuracy of the system. On the other hand, it has individual capacities ranging from 45,000 lbs to 1,35,000 lbs. It is essential that the load cells are mounted specifically to ensure correct weight measurements. To provide added protection, wires shielded by aluminum foil and tinned copper braid are also provided at each load cell, enabling earthing and shielding from lightning strikes. Chiefly choosing the right load cells and mounting them correctly is critical to achieving accurate and reliable weighbridge results.
Weighbridge Manufacturing Factory
Investing in a weighbridge for your business can be a significant decision, but it can also be a smooth process with the right manufacturing factory. In short, our weighbridge manufacturing factory provides reliable expertise in creating various structures that cater to all types of weighbridges. Indeed we even offer customized sizes to meet the unique requirements of our customers. Whether you need a compact truck scale, a robust weighbridge, or a heavy-duty dumper weighbridge, we have you covered. Additionally, we also offer trailer weighing scales. Contact our technical experts, and we will find the perfect solution for your weighing needs.
Reliable offers a comprehensive range of weighbridge services and components to meet the specific requirements of different industries. Their complete in-house fabrication means that customers can benefit from reliable and durable weighbridge solutions that are made to last. In addition, Reliable also provides load cells, indicators, and specialized weighbridge management software tailored to the customer's needs. With years of industry expertise and a focus on customer satisfaction, Reliable is committed to delivering top-quality products and responsive support to ensure that your weighing needs are met efficiently and effectively.
Weighbridge Services
For businesses in need of dependable annual maintenance services, look no further. Our services come with the accreditation and certification you can trust, including EIAC certification for accredited calibration, ISO 9001:2015 certification, and ISO 17025 accreditation. We offer a range of solutions for your weighbridge needs, from repair and overhaul to rental services, re-installation and relocation, and spares and accessories. Our modular designs are available in custom sizes and capacities, with steel checkered plates on top for optimal tire grip. Our truck scales are suitable for both surface mount and pit mount truck scales, and we offer integration of loadcells and steel modules to existing truck scales. Plus, we provide personalized inspection and verification with calibrated weights, training for weighbridge operations, and around-the-clock technical support. Trust us to keep your operations running smoothly.