How to print on bottle cap?
In the fast-paced beverage manufacturing industry, it's imperative to have reliable and efficient printing solutions. That's where Linx continuous inkjet printers and laser marking machines come in. With the ability to print on plastic and glass bottle caps, manufacturers opt for these printers gradually. Indeed, Linx printers offer an ideal solution for expiration dates and LOT codes. And with continuous printing capabilities from the top of the production line, there's no need to slow down the process. So, whether you want to print expiry dates or etch intricate designs onto bottle caps, Linx has you covered.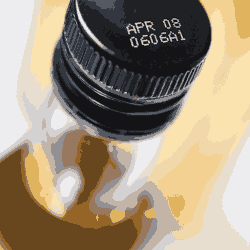 In various industries, date/time and batch or lot numbers needs printing onto bottle caps instead of bottles or labels. But, as bottle caps present a challenge of small circumference and hard-to-code materials, finding an efficient solution can be difficult. Thankfully, with the right bottle coders, printing onto metal or plastic caps is possible and a breeze. Our bottle printing technology enables small character printing that is legible and readable throughout the product's shelf life.

Inkjet Coder to Print on Bottle Cap
Inkjet coding is an efficient and precise way of printing information onto bottle caps. Whether it be expiry date, batch number, or QR codes. With the ability to continuous printing on fast-moving production lines, inkjet coders became crucial. Opting for solvent- or water-based inks depends entirely on the material and the desired print quality. The use of inkjet coders guarantees reliable and high-speed printing, ensuring that the production process runs smoothly and efficiently. As such, inkjet coding has become essential in the packaging industry.
Laser Marking Machine for Etching
Laser etching on bottle caps plays a vital role in the world of product labeling. The application of this technology makes it possible to accurately print or engrave expiry dates or LOT codes right onto the bottle cap itself. Unlike traditional printing methods, the laser etching process is non-contact and does not involve any ink. Indeed, the caps can last well beyond the life of the product. Bottle cap printing or etching is a reliable and cost-effective solution, especially for industries requiring strict adherence to regulatory guidelines. It ensures the protection of consumers by allowing manufacturers to keep track of their products lifespans and avoid potential hazards. Laser etching on bottle caps is an innovative and practical way to keep products safe, and consumers informed.
https://reliableglobal.com/wp-content/uploads/Website.gif
0
0
admin
https://reliableglobal.com/wp-content/uploads/Website.gif
admin
2023-06-06 05:35:17
2023-06-16 08:41:42
How to print on bottle cap?